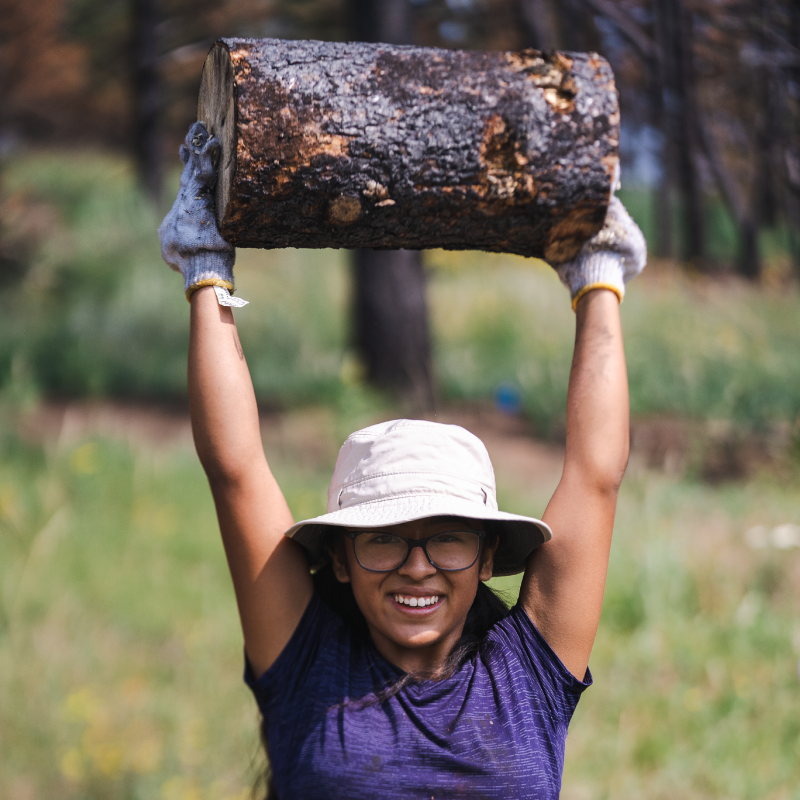 SAPJAH
Pennsauken, NJ
If you saw Sapjah walking down the street, it probably wouldn't occur to you that she can deadlift 175 pounds (well over her body weight). Or that she started a girl's wrestling team when others began to take notice of her wrestling on a boy's team.
Sapjah embodies all that FYR strives for: strength, courage, determination, and an unwavering spirit that is always in the service of others. The child of Mexican immigrants, proud of her Christian identity, she is a family-centered young woman growing up in a tight family of six.
Drawn to FYR because her two older siblings had participated and she saw a dramatic change in them, Sapjah wanted to be a part of it too. Once shy, reserved, and almost scared, training gave her strength and she began to see that her mind was the only limit to her accomplishments.
Sapjah attended our leadership camp in 2018 and 2019 to push herself and her fitness further, develop more confidence and learn to effectively share her strengths with others. A powerful role model for the camp athletes, she's inspired her peers and coaches alike.
"We tend to bring ourselves down," says Sapjah. "We have a mentality that limits us from getting better." But Sapjah recognizes that it is within each of us to grow through learning, engaging, and leading."My experience at camp was truly incredible. It helped me push myself and build my confidence," she continues. "We explored the idea that we can take comfort in discomfort, recognizing that strength is built from stretching ourselves, and I love that!"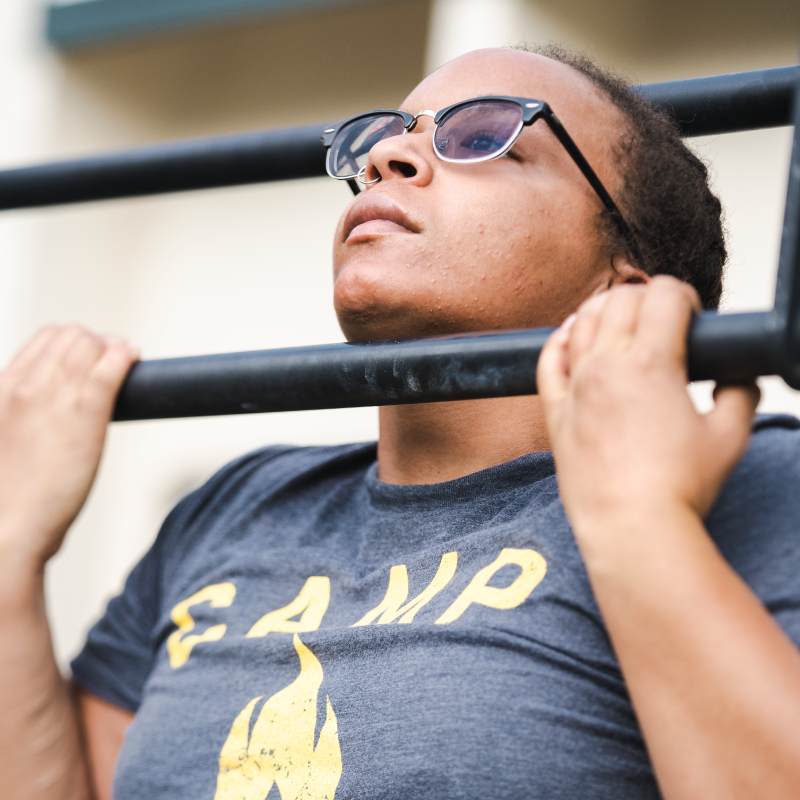 RAY
Denver, CO
Despite how badly he wanted to be, Ray was not athletic as a kid. He grew up in a complicated household and struggled with his weight and deep gender dysphoria. Ray was introduced to FYR in January 2018 where he found a community of unconditional acceptance and support. "Being in a community unified through struggle, inside of the gym and out, allowed me to feel a true sense of belonging for the first time," said Ray. "FYR has taught me to be proud of my body for more than what it looks like. It's taught me to be proud of my body for what it can do."
Ray had the opportunity to attend our leadership camp for a second time this past summer, which only strengthened his belief that his favorite part of FYR is the community. His worries about what other campers would think of him were quickly erased, and he instantly felt reassured by the unconditional friendliness and acceptance that was shown to him. So much so, that he even opened up and shared about his gender dysphoria and anxiety with the group, which he hadn't been able to articulate for years. Ray explained, "Camp made me personally understand the value of community, and has taught me how to uphold community as a leader back home."
Ray received his CF-L1 in October 2019 and is currently a coach for Mighty Movement Academy, a youth weightlifting club. He hopes to inspire and push people to achieve things they don't think are possible. Ray also hopes to attend Colorado State University in the Fall of 2020. He said, "Despite some anxiety about this huge change in my life, I know that there will always be people–athletes, coaches, volunteers–there to support me.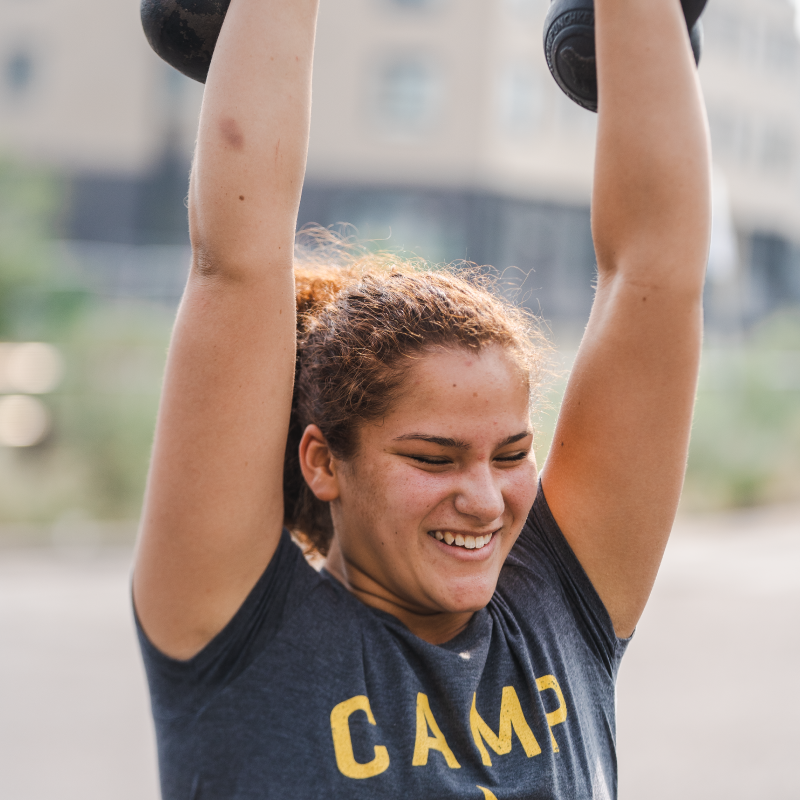 GRACE
Nashville, TN
Grace was introduced to FYR in December of 2018. She was searching for an affordable weightlifting gym to continue pursuing her interest in competing in the sport but was having trouble finding one that her family could afford. Her school's Athletic Director told her about FYR, and Grace was instantly attracted to the fun and friendly environment and community she found there.
Grace struggled with depression in middle school before joining FYR. "Being a part of FYR has been a great outlet for my stress, and a place to share my problems with people I trust," Grace said. "When I feel like giving up it's my community that keeps me going! FYR is my home away from home and helps me stay in a positive mindset."
At camp, Grace was challenged physically, but working hard alongside others was a reminder for her that she's not alone. The support and encouragement from the other athletes, volunteers, and coaches helped her thrive. Grace said that camp helped her grow as a leader, "I learned that it's okay for a leader to not always have the answers because the people around you can help. A leader listens and makes sure everyone's ideas are heard."
Grace plans to attend college to study mechanical engineering. She credits FYR and her coaches with teaching her to work hard to achieve her goals.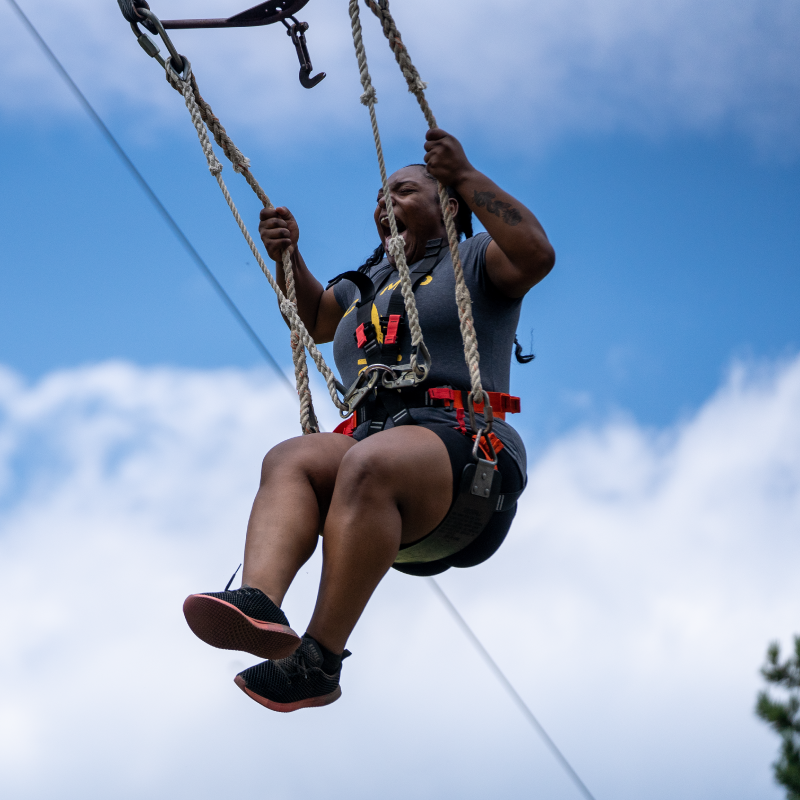 ASPEN
Denver, CO
Aspen found FYR in early 2018 and soon became a regular. Her favorite part about the program is the sense of community she feels there. "At FYR, we push each other and cheer each other on," Aspen said. "The community that I have at FYR is the reason I continue to come back every week."
Since joining the program, Aspen can challenge herself in different ways than before. She says, "I'm more willing to take risks and try something new because I know I'll have support and encouragement from not only my coaches but from the other athletes as well. FYR has allowed me to take control of my life. I no longer find myself going along with what others want me to do, but instead, I make my own decisions and I do things for myself."
Aspen has returned to our leadership several times. "Camp is challenging because you're pushed outside of your comfort zone not only physically but mentally and emotionally as well," Aspen said. "My favorite part was the Leadership Reaction Course. I like to be in charge, but the difficulty of the obstacles in the course forced me to recognize when I didn't know what to do and trust my teammates. Camp is something that everyone should experience if given the opportunity."
Aspen is a senior in high school and hopes to receive a scholarship to attend an HBCU (Historically Black College or University) and major in nursing. She says, "FYR has helped improve my self-confidence and has given me support for whatever I choose to do in the future!"
Start a Club
Work directly with youth!
Do you share our mission of empowering young people to build physical and mental strength for life? Consider starting a Local Club!
Get Involved
There are many opportunities to get involved:
Donate a Percentage from your Local Event.
Create a Scholarship.
Donate Gear, Equipment, Talent.
Support a Local Club.
Donate
Every dollar helps us empower youth.
We rely on donations and fundraising efforts to provide opportunities for our youth athletes and Local Clubs.