We are excited to share a sneak peek of our new branding! After a year of gathering input from Steve's Club athletes, alumni, program leaders, funders, partners, and supporters, as well as many discussions among our team, Steve's Club has a new brand! We plan to roll out our new branding over the next few months, and wanted to share a preview with you first.
A Catalyst For Change
The year 2020 was, as with so many aspects of life, a catalyst for change at Steve's Club.  CrossFit Home Office itself has undergone a monumental shift, with new ownership and leadership creating a new way forward.
As CrossFit has sought to broaden its reach and impact across the fitness community, so too has Steve's Club. In doing so, the Steve's Club board and leadership looked at how we might have a broader impact in the community, raise our profile and drive further value and appeal, among our athletes, Local Clubs, as well as for potential donors and supporters of the organization. To drive this broader reach, we saw rebranding as an opportunity to allow us to create more recognition and impact – and more clearly communicate the focus of the organization.
While our programs won't change, we've come to recognize that our organization has evolved  since our humble beginnings in 2007 that we wanted to better represent our youth athletes, Local Clubs, and supporters.
Introducing our new name
Coming up with great names is hard. For Steve's Club, especially, we were faced with two considerable challenges: one, the fitness category is extremely saturated and many of the obvious, relevant and sought-after names have already been taken, which could have led to long-term trademark issues.
Secondly, we were looking for a name that would fundamentally appeal to our youth athletes. We needed a name that our members would organically adopt and accept, and that lends itself to the way teens speak to each other.
We received a lot of great input and feedback from our board, staff and Youth Advisory Committee. The themes that rose to the top included:
Creating mental and physical strength for life

Building a community of support for our athletes

Grit
After nine months of rounds of naming and discussion, our stakeholders voted on our new name:
Forging Youth Resilience
(FYR)
"I think there are several positive connotations with Forging Youth Resilience, FYR! There are a lot of cool parts of this name that speak to the roots of CrossFit as well as what we are doing with the youth through programming. Especially from my business experience, there is a lot we could do with this name. Excited!"
"This name is literally FIRE!"
Introducing our new logo
Aside from needing a new logo to go with our new name, we recognized our logo from 2010 no longer aligned with the aesthetic of our youth athletes. We needed something that showcased our values of growth, respect, integrity, and teamwork in a way that centers our youth, is approachable, bold, modern, and authentic.
We're excited to share our new logo, which we truly believe represents all these values and more: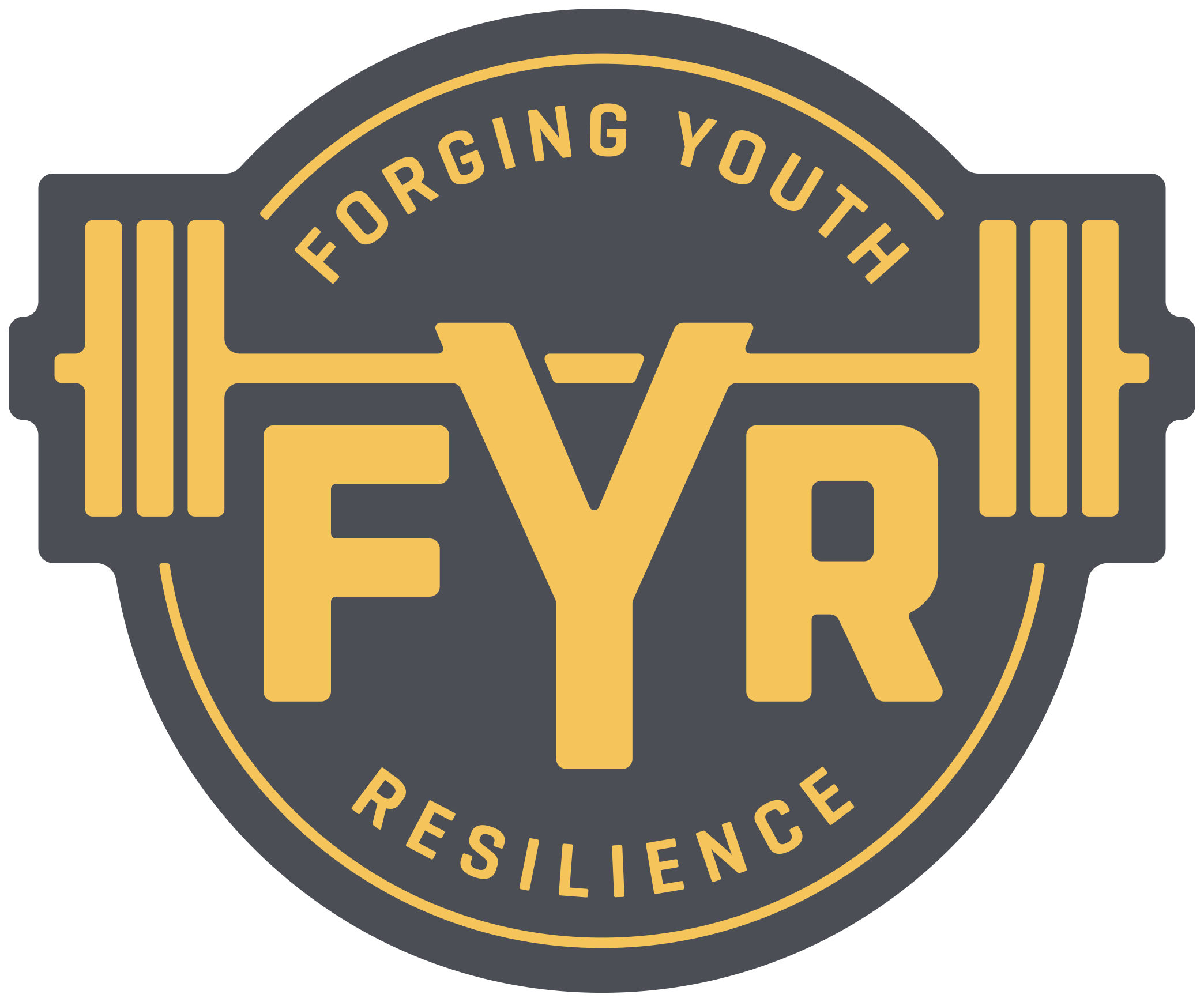 Our new logo reimagines our classic barbell symbol and focuses on the Y (our Youth), with the letter being the upraised arms of our aspiring athletes.
BRINGING OUR NEW IDENTITY TO LIFE
A brand is more than just a name and logo, so we've taken a step back to look at our entire identity.
Mission, Vision, and Values
Following our organization-wide diversity, equity, and inclusion assessment, we took a hard look at our mission, vision, and values and revised them with more inclusive language.
Mission
FYR empowers young people to build physical and mental strength for life by providing access to a network of community-based fitness programs and mentorship.
Vision
A world where all young people feel strong, capable, and confident to become the best version of themselves.
Values (GRIT
)
Growth – Rebound from challenges, keep learning, and strive to be your best
Respect – Treat everyone well, value and accept yourself and others where they are
Integrity – Do the right thing, commit to excellence, and be a role model for others
Teamwork – Encourage and motivate others, collaborate, and give back
Color Palette
Our new palette is meant to highlight our lively youth athletes:
Fun
Energetic
Friendly
While bright, vibrant, and exciting, these colors also maintain a sense of professionalism and ease of use.
Our Website
With so many fine details that go into a rebrand, you'll start to notice changes to our website over the next few months. We hope you'll find that the new brand standards better represent the work we're doing today.
WHAT THIS MEANS FOR YOU
To our community, we thank you for playing a valuable role in our rebranding process, and hope you share our excitement for the new look and what it means for our shared work. We welcome you to celebrate this milestone with us.
To our Local Clubs, we'll be here with you to support your club's rebrand too and will be in touch with you 1:1 through the end of the year and ongoing. If you have any questions about our rebrand, please feel free to contact us below.